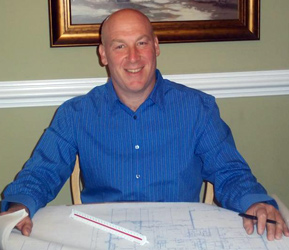 Bruce McFadden, owner of McFadden Homes, Inc, has spent his whole life in the building industry. As a teenage boy, he worked with his family in the construction industry in Pennsylvania. Upon moving to North Carolina in 1988, he continued to remodel homes and build custom homes. In 1999, he established McFadden Homes, Inc. Since then, Bruce has built numerous custom houses, and completed many home additions and remodels. In addition, he had finished several commercial projects.
Bruce and his family have lived in Moore County for 23 years. He knows the market and the people in the local building industry. He employs only those who meet his high standards for job quality.
The McFadden Homes, Inc., team includes five qualified, professional craftsmen. The team includes a Certified Green Professional™, with the knowledge and skills to incorporate green building principles into any building project and a licensed draftsman who provides technical architectural drawings and is knowledgable about materials and design standards. They've built custom homes in Aberdeen, Foxfire, Pinehurst, Seven Lakes, Southern Pines, Vass, and Whispering Pines, NC, and are ready to build or remodel your home or business.
Bruce McFadden is a hands-on builder. He is present at every job site. He meets with the home owners and discusses every detail of the project with them. He is dedicated to fine quality of each product, and to your happiness and satisfaction as a customer.
We build and remodel homes and commercial buildings in Southern Pines, Pinehurst, and throughout Moore County, NC.
Learn more about what past clients have to say by reading their testimonials. Have questions? Contact Bruce McFadden today to discuss your building project!